Welcome to San Diego!!!
The weather is fantastic, nice and cool... part of our group headed for Cuyamaca today but they planned a long ride and for Randy, especially after driving all day yesterday, that was NOT a good idea... besides we wanted to do TWO beach days so we figured this for a great option for the extra beach day, didn't really want to miss any of the other planned rides... and we will see at least part of Cuyamaca tomorrow!
Waiting for Randy and Hilary who were sleeping in, my friends Pat and Mary and I took our horses out from camp on a short jaunt up to the "gazebo" and back, but I didn't remember to take the camera with me. Then after lunch we loaded up to head for the beach!
AzBCR has a new sister site for California, CaBCR, and through some of its members we heard about another place to park, and ride further to the beach (through the Tijuana River Preserve area). We parked where we thought it looked right and then once we were on horseback for a few minutes, found where we were SUPPOSED to park... oh well. We had a lovely ride, about an hour, through the preserve, only to reach a point where we were on a spit of land between two forks of the river and no way across to get to the beach, even though we could see the ocean ahead!
Just a couple of shots from the preserve trail...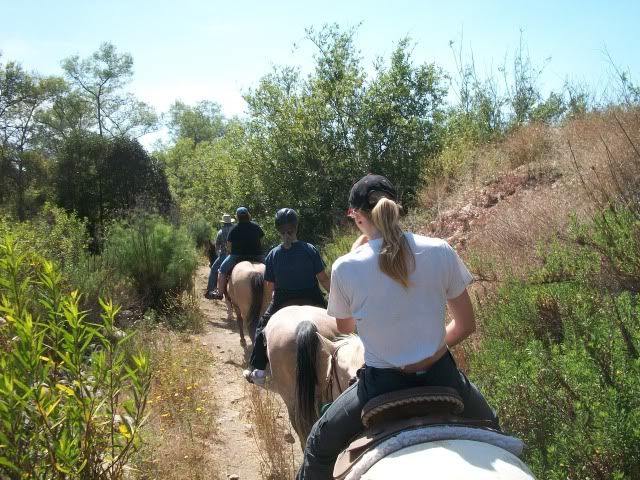 Rather than continue trying to look for another trail that would get us through, we decided to return to the trailers and just DRIVE the short distance to the parking place from last year, at least we KNEW we could get to the beach from there...
See the ocean up ahead?
And we are on the beach!
Jasmine's first ever ocean earcam :)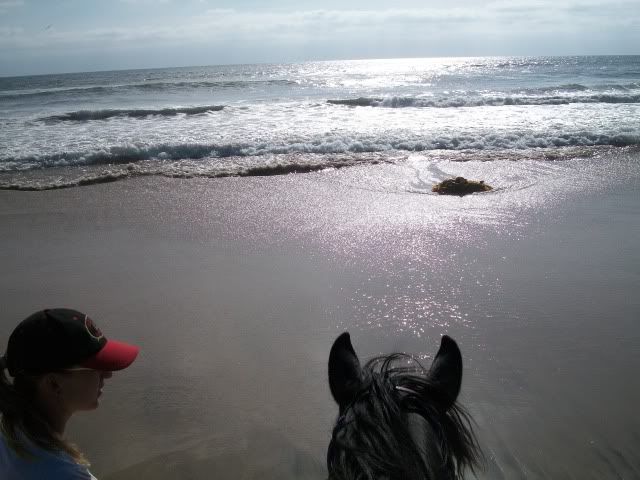 She did NOT know what to think... but she didn't get too upset, just kind of refused to budge... none of the 5 horses would get near the water, so Hilary dismounted and led Destiny, and me aboard Jasmine, and managed to get both of the girls' feet wet.
Later I got off and helped Mary get Buck in the water... he promptly splashed like he always does!
Hilary and Destiny: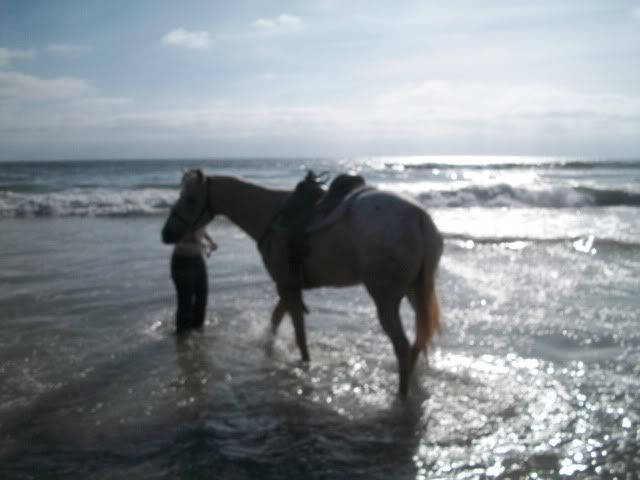 Then I helped Pat with Playboy... he did actually get his feet wet while I was leading him!
But for the most part, he said NO WAY!
And I think Katie was quite relieved that Randy had no interest in getting wet!
Took a few videos but you will want to turn your sound DOWN, it was so windy it sounds horrible!
http://www.youtube.com/watch?v=S-rgtSRt33g
http://www.youtube.com/watch?v=faeNmxUzBBQ
http://www.youtube.com/watch?v=59H_Nvahdl4
http://www.youtube.com/watch?v=4qCBQpUBwKI
I'll leave you with my favorite picture from today... my gorgeous girl!