Call me crazy but I couldn't say no. Yesterday while in Camp Verde after dropping off the pony and donkeys, we visited our friend Barb. Well mostly we visited with her daughter Sydney because Barb had a problem at work on Saturday and didn't get to come home, and forgot we were coming! She did get there before we had to leave and it was great to see her! But anyway while waiting for her we got to play with her 2 Yorkies, Scooter and Munchkin... I love loved Scooter ever since the first time I saw him, just something about that dog... AND Sydney had 3 pups there as well, a brother and sister, and an unrelated female...
And I am going to have my fingers fall off if I try to type the whole story so suffice it to say, she was looking for someone to go partners on the male pup, she wants to keep him to breed to one of her females BUT the other of her females is his mother... and due to her disabilities, she just isn't quick enough to stop them if they decide to do something they shouldn't! So she offered me to take him home with the understanding that we are partners and when she is ready to breed he'll go stay with her till the deed is done ;) Well, I've dreamed of owning a Yorkie since the pup I saw a lady holding in the Gemco store in December of 1983... had even toyed with the idea of getting one of Barb's pups from her last litter but Randy said only a girl and Munchkin had all boys! Found out we couldn't afford one anyway... but I think he felt sorry for me having to rehome my critterkids and I have to tell you, it sure did make it easier to come home after the second day of dropping off my horses and donkeys with a puppy on my lap!
Meet Riley...
This is my favorite shot...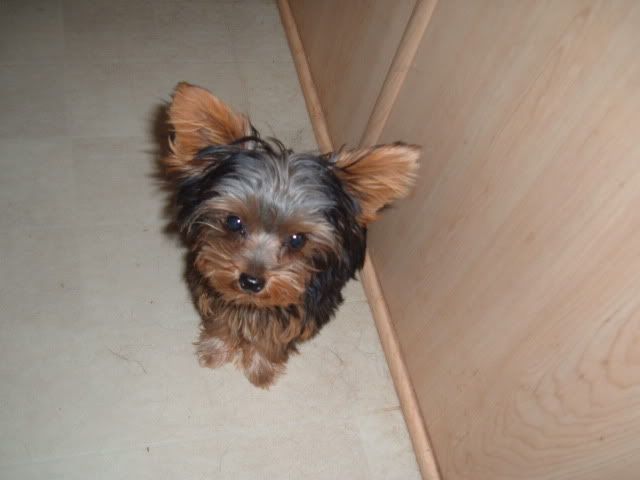 Ty wondering what all the fuss is about - after all, HE is the cutest puppy!!!!!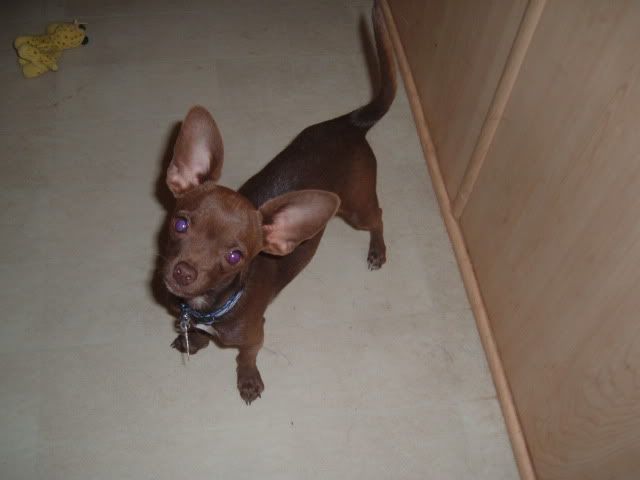 A picture with Vada and Ty for size comparison...
Riley + bath = drowned rat!!!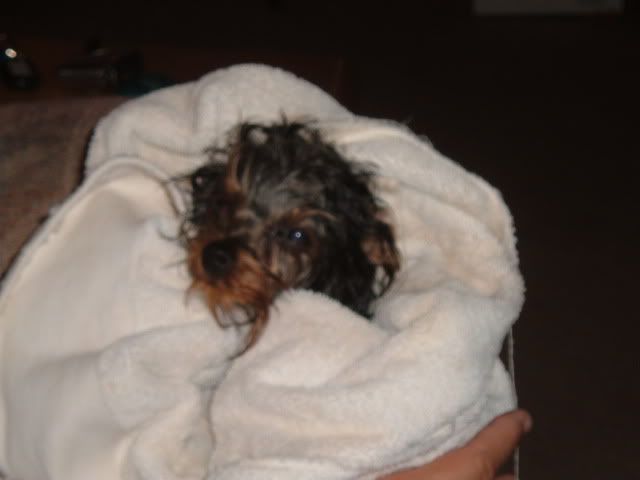 What can I say. He doesn't eat much!!!!!