I have been contacted on behalf of two miniature horses, a miniature donkey, and pygmy goat (all geldings, about 12 years old) located in Ketchikan, Alaska, who are in need of finding a home. The information I was given is that their owner there can no longer care for them, and the geographical location of Ketchikan is such that keeping horses there is a real challenge. It is not good habitat for horses, being a thickly forested island. The owner passed away last April, and his daughter has been trying to care for them but feels she cannot do so any more. They have been confined to a fairly small corral for their lives here, and are very gentle, though have not had formal training.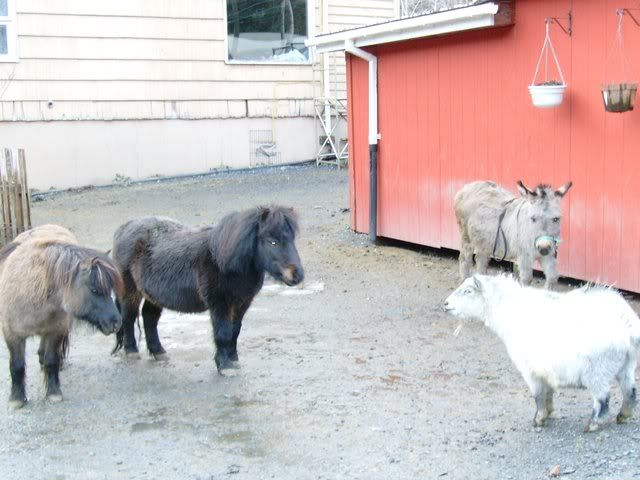 for some reason the whole picture doesn't show, just the two horses, at least on my computer... but if you CLICK ON IT you can also see the donkey and the goat :)
Moving them will involve a 36 hour ferry ride to Bellingham Washington, but this is something that will have to be done, as they need to find a home where they can be cared for. There are no other horses in the area and my contact says that even the people are fairly isolated from the horse world.
I am able to take them into the rescue and find them new homes, but first we need to get them here. My contact is willing to figure out the logistics of getting them off the island, including their Coggins etc., and says she can get them as far as Bellingham, WA. So all we need to do is set up an equine transport train from Bellingham, WA to Wittmann, AZ. I can drive from my place to southern CA or northern AZ if we can figure out how to get them that far…
If you live between here and Bellingham WA or know anyone who does that might be willing to help drive them for a bit or keep them overnight if need be, please let me know. If you don't and are able to make a small contribution towards fuel so that I can offer to reimburse folks who are able to help, that would also be much appreciated. However PLEASE do NOT send any money yet, as I want to make sure this is actually going to happen before I take any donations. My contact is to begin working on her end of it and get back to me but it could be a month or more before she has things in place. So we have time to put together a transport train and if worst comes to worst and the AK folks aren't able to get the critters to Bellingham after all, well, I will be out some time organizing but that's no biggie. What I don't want to do is wait until she gets them to Bellingham and not be ready to get them the rest of the way!