I was fortunate to be able to join a few friends as they worked on their horses for upcoming endurance rides. First ting out on the trail the lead horse came upon a rattler... the rest of us backed off so she could turn around, then a couple of us walked back to toss rocks and convince the snake to move on and let us pass. Stubborn thing took quite a few rocks!
A Katie earcam
Gorgeous day, gorgeous rocks, gorgeous view (and if you look close you can see the rigs between the rocks!)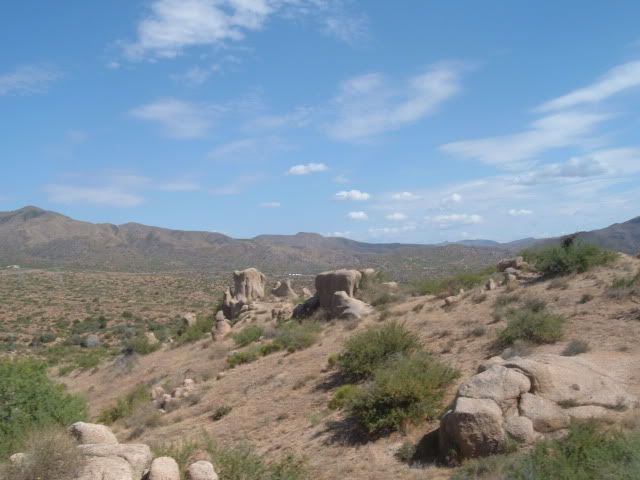 One of my friends is trying out a horse and, I believe, this was her first "real" ride - several others and several hours.
Melanie and Baloo
Caught this shot of Melanie after a session of gaiting along the wash...I think she's happy!
What a great couple ;) I hope it works out that she can keep this horse!
Afterward we hit Harold's in Cave Creek for lunch and I had the YUMMIEST chicken sandwich - if you go there, try the "Sandscratcher"! Then I came home and took a nap ;) I was supposed to go get hay but by the time I got home I wouldn't have made it, so I talked Randy into going during the week for me - he's such a great guy! And to top off the day he took me to Olive Garden for dinner!