Sabrina on Patch, and me on Glory, took on the 25-miler, starting out at 8:30...
Saying goodbye to Brenda, who is taking Katie on the fun ride today...
The first loop was nothing short of fantastic, in fact we were going so fast I never got the camera out! What a lovely, glorious ride...
Until, at one point, we met up with the 50-milers, moving along for a few minutes and suddenly everyone comes to a halt, at first I thought it was another gate, then we saw 2 gals off their horses looking at something in the grass, thought someone had dropped something... then heard the dreaded words, RIDER DOWN! Thank God one of the gals was an ER nurse, the rider was face down in the dirt and not breathing... we held one of the horses while another rider assisted her in turning the gal over and getting her breathing again, yet another was on the phone with 9-1-1... turns out her horse did nothing wrong at all, no buck, no fuss, just tripped and somersaulted right over her! Once they knew help was on the way they had most of us move on, we felt bad leaving them but really we were just in the way and unable to help, so we moved on. We passed a Border Patrol, then Marilyn the ride manager with a paramedic truck and ambulance, then saw the helicopter arrive... quite sobering!!!! Just goes to show you that one never knows...
Toward the end of the first loop we were passed by this 50-miler... take a look at how he rides his horse! When we asked how he came to ride with just the string around her neck, he said she is really itchy, the bridle and bit bothered her, he changed to a hackamore, still bothered her, tried a rope halter and it was some better, eventually ended up with just this string and she is a very happy mare! He also said that if he could figure out a way to do 50 miles bareback, he'd leave his saddle in camp too, but he claims his old legs can't handle it... I don't know, I for one am amazed at this guy!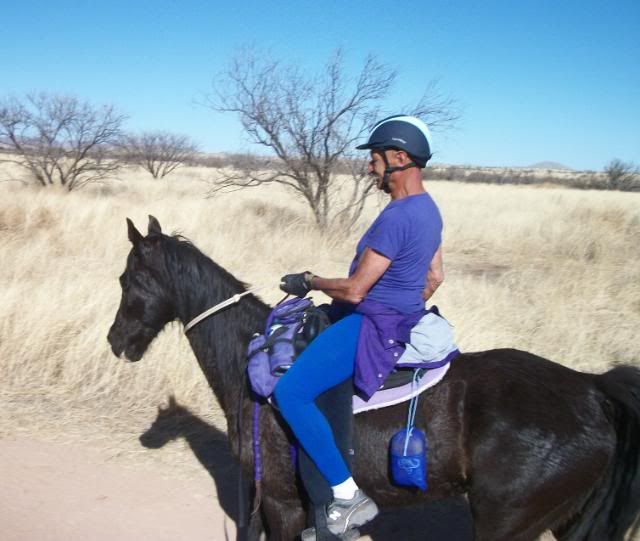 We arrived at the vet check to find that Glory was totally pulsed down with no waiting, could it be that she is actually getting the hang of this? (She hates the vet check, "WHY are these people TOUCHING me?????"
After a short break, we took off on the second loop... well, kinda. Neither Patch nor Glory seemed to have any more go in them, Sabrina said it is always hard to leave the vet check so we hoped they would get with it after a couple of miles, but no, it was quite warm, neither of them were drinking enough, and they just fizzled...
One benefit to walking is, PICTURES! It's gorgeous country and lovely footing...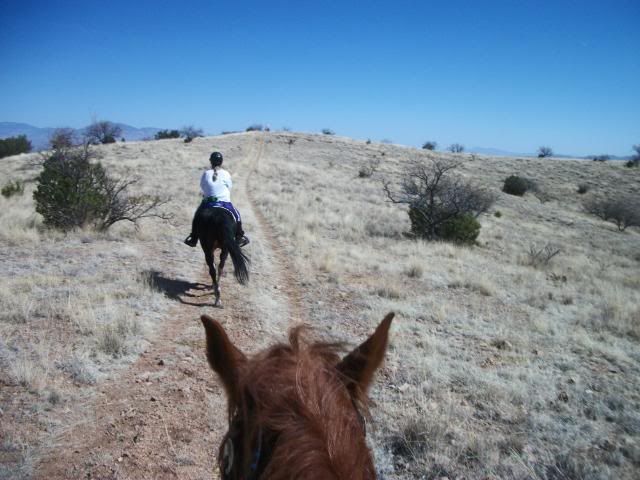 Glory was just dragging, look how far ahead Patch is!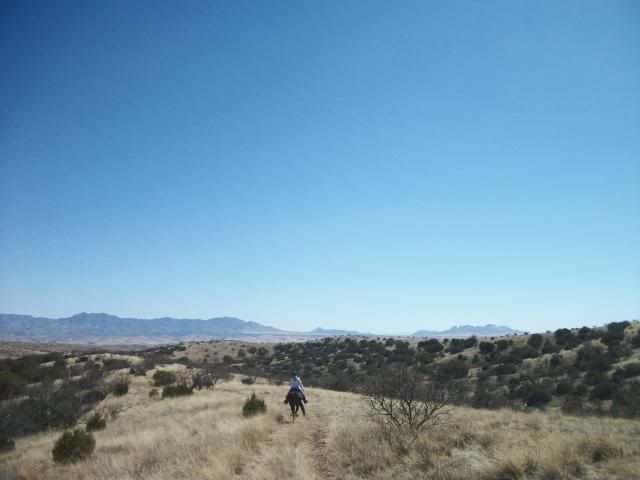 When we got passed by a 50-miler, both the horses picked up their pace a bit... at least until the 50 got too far ahead to be considered "competition" any more...
Slow as that second loop seemed, we finished in time and later at the ride meeting, found out that we were 2nd and 3rd out of 12!!! And, the gal who was taken to the hospital was released and returned to camp that night, although she did not ride again... the doctors said that ER nurse on the trail SAVED HER LIFE! I am so thankful that she "happened" to be right there where she was needed... God was truly watching over us!!!
Early to bed tonight as tomorrow's ride is starting earlier... 7:15 to be exact!