As if I wasn't already on top of the world after riding Jasmine Sunday... we had actually seen this Sunday morning when we went to get hay and had a verbal deal with the guy over the phone, but got the money together yesterday and went last night to pick up MY NEW TRAILER YAAAAAAAHOOOOOOOOOOOOOOOOOOOO!!!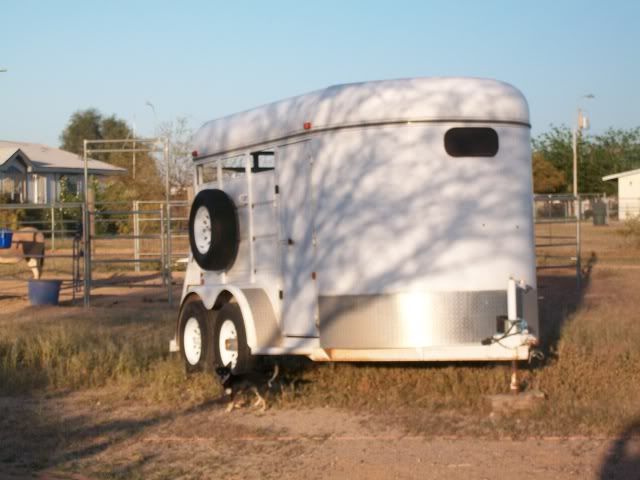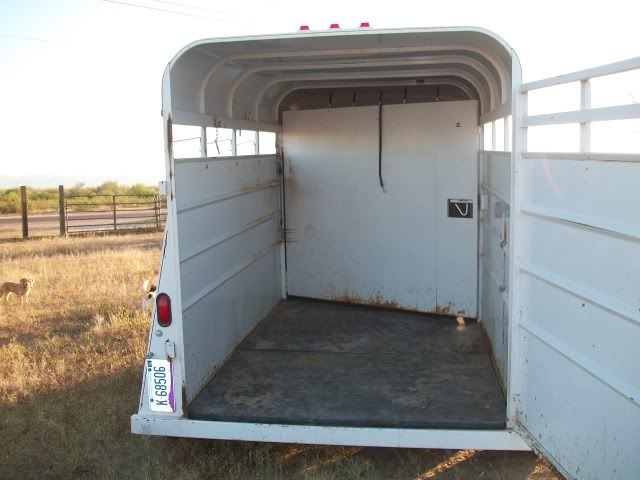 So maybe Randy DOES love me as much as Sherman does? He had promised since I had to sell my truck and trailer to pay bills that he would get me a little trailer like I REALLY wanted once I had it figured out... see the 3-horse slant I had gotten planning to tow it with my Jeep was a bit much for the Jeep, so it wasn't TOO hard to just sell it when we needed the money... and, well, this one is actually even better than what I told him I wanted! My friend Pat has a 2-horse slant stock trailer and I towed it with my Jeep in January and it did just fine... so I told him I want a trailer JUST LIKE PAT'S! This one is one step above a basic stock, AND it has a water tank already installed! The only thing missing that I thought I wanted is an escape door, but realistically that is more a convenience than a necessity so no big deal.
Plenty of room for 1-2 horses if I am making a day trip and don't need the big trailer for camping...
Granted it would probably have been smarter to put the WHOLE tax refund in savings pending my job situation possibly changing in a few months, BUT my direct boss says "don't worry" and this was too good a deal to pass up... if by chance things don't go well at work, we can always sell it for more than we paid for it. But God has been really good to us lately and we are operating in faith that the blessings will continue!!