Remember this?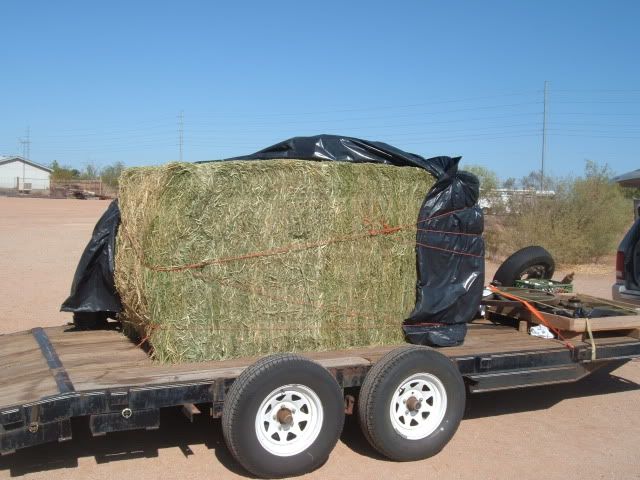 While I was camping this weekend, Randy came home with this: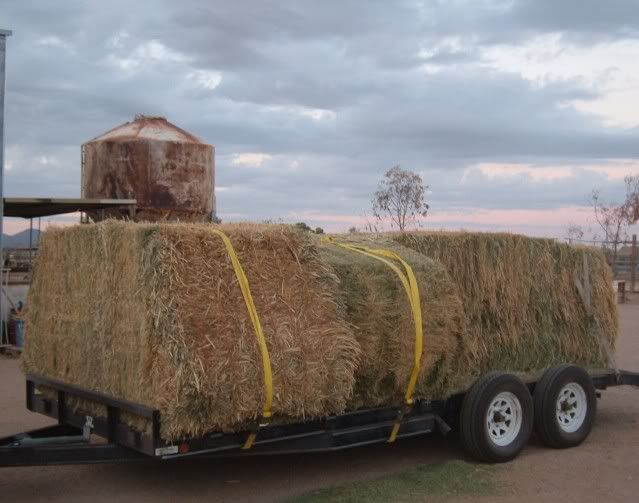 Yup that's THREE more. OK, only one of them was a donation, but the price on the others was awful darn good. And the four bales will, I believe, feed the herds, big and small, for almost FOUR MONTHS... (well, breakfast anyway - for dinner they get pellets... that's the dispenser behind the trailer in the second picture).
Getting the three bales off the trailer was a 2-hour ordeal and once again Randy's ingenuity truly amazes me... for two not-so-young folks with bad backs, even one 2200-pound bale of hay is extremely daunting. Three at once, well, I just had to trust in him! And he came through as always :) This morning was the first time I fed from them and I am pleasantly surprised at how much alfalfa there is NOT! They really do appear to be as stated, mostly grass hay, which I much prefer for my minis and donkeys... and the big horses as well since they aren't worked real hard.
If we can figure out how to haul it, and come up with the extra fuel money, the guy has some broken (loose) bales he said we could come get... but I think I need to feed some of this first or I don't know where we will put more!