This morning early, Randy and I picked up Starfish so that I could deliver him to his new home today. We put him in the back seat and barely got onto Highway 74 (maybe 5 minutes from Mikey's) when he was crawling over the seat back next to the window and plopping his 50-pound self ON MY LAP! It took a good 25 minutes before he decided that the back seat might be more comfortable after all...
Randy had a reenactment with his cannon at Pioneer Village which put me a third of the way to his new home... so he came along while we dropped Randy and the cannon off, then we called Janet and headed north. He made that leg of the trip in a crate in the back because we didn't want to risk him trying to get on my lap while I was driving! We reached the meeting place first so I unloaded him and tried to walk him and see if he wanted to potty... I was a little worried because although he took his meds wrapped in cheese, and drank a little water, he didn't eat any of the food I soaked for him.
When Janet arrived, I think it was love at first sight...
Saying hello...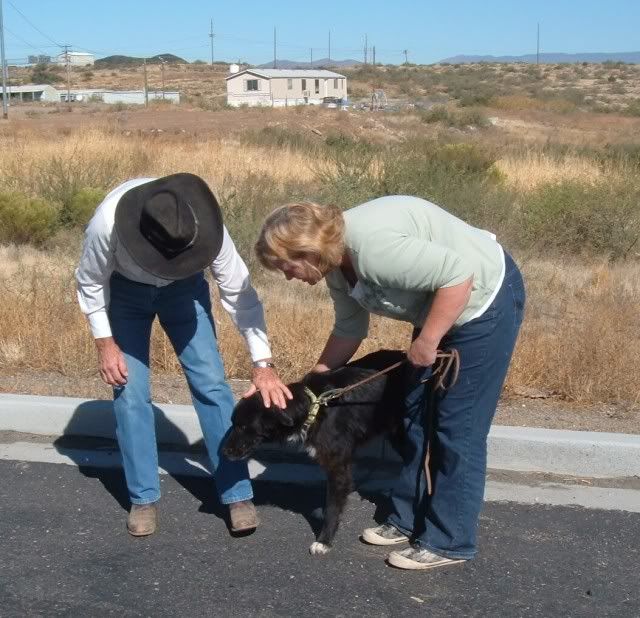 Turns into a hug...
And then a kiss!
I think he's gonna do just fine with Janet, don't you?
PS update, heard from Janet, she writes:
*************
Update on Starfish #1, who we are calling Max:
Well, he layed quietly in the car all the way home. After a little coaxing, he got out of the car when we got home and Dougie was right there to meet him. Dougie was so kind and gentle to him, I just loved him for how sweetly he greeted our new pup. We took him into the back yard and attempted to show him around...but he took a long drink of water and found a little place to lay down on the porch and so we just let him be. He soon took a nap and stayed in that spot for hours.
He didn't eat right away, but early evening he ate a big bowl of boiled chicken and rice, although he didn't finish all the rice. Then, later he ate another whole bowl of chicken only, and after we finished our steaks, he got a nice plate of scraps.
We did see him get up and down off the porch to go potty, so he knows the drill there. We took him inside a while this evening, now he is out again to do his business. He has his own room right now so he can feel safe and calm. He's been pretty scared, but we're so glad he finally ate. He loves ear scratches. He hates the hard wood floors!
(Don't most dogs?)
Anyway, I'll post pics tomorrow.
Mikey, thanks for your kind words and all you have done for this new love of ours.
Janet
and...
Oh, and he seemed to be wise to our attempt to sneak his meds in the chicken and the cheese-so Jim put them in a Vienna Sausage and he had no idea that he took them! Yay Jim! I was hoping I wouldn't have to pop the meds down his throat, as that isn't the way you want to treat a scared doggy on his first day in his new home.