Got a call last night just as I was feeding my herd, from a gal I know through the mini yahoo group here... Jaci called me because she remembered I lived in Wittmann, near her son. He was out 4-wheeling in the mud in the desert north of my place (and his) and came across a wandering horse, skin and bones. Like any good kid, he called his mom! Long story short, I got Randy to take me out on his 4-wheeler, met up with Jason, and he took me to the horse. It was about 2 miles north of us, way out a dirt road (ok make that a MUD road!) We had no choice but to ask the horse to walk out, after getting stuck in my own yard yesterday there was no way to risk taking the trailer out there - and with that road crossing several washes, I don't think I could get it out there even on a dry day! It's an awful rough road for such a big rig...
Anyway skin and bones was right, and I checked, yes it's a mare. Pretty face and very sweet, no trouble haltering her but she didn't really want to walk. We gently but firmly convinced her that she needed to come with us... so I started walking her south and Jason followed me with the truck lights on, it helped me see where to walk AROUND the puddles and with the truck behind her the mare was more willing to cooperate with me... at least until we got to a spot where water was all the way across the road. I managed to tiptoe around the edge but she wasn't thinking she wanted to come with... Jason edged closer and she decided the water wasn't as bad as the truck!
After about a mile we got back to Randy and the 4-wheeler, and I hopped in the back to see about ponying her like that, it worked for a bit although I lost the rope a couple times when she lagged, but she didn't take off, just wanted to STOP. Eventually I couldn't convince her to follow the 4-wheeler so I got back out and walked her some more. In the dark, in the mud, both of us old gals were getting pretty tired! Jason took pity on me and put me in his truck while he walked the mare the rest of the way to the pavement, and she made it about 100 yards further and then just QUIT. (In the meantime I had called Hilary and asked her to put food and water in the round pen, no telling where this mare has been or what might be wrong with her so can't risk putting her near our own herd...) Her sides were heaving by then, and her head hanging, she has just HAD IT! Well OK we are on the pavement now so we left Jason with the horse and went home to get the trailer. I am praying she gets in with no trouble because it has been well over an hour now, Jaci called JUST before dinner, Randy was so good about helping when I KNEW he didn't want me to get involved, he worries I have too much going on already... he was tired and cold and wet and hungry and his back hurt... but he didn't complain. With a handful of carrots for bribery, we headed back. Well this old gal sure knows what a carrot is! But we didn't even need them to get her in, I told her we brought her a taxi to take her to some food, and she jumped right in the trailer with me! So I gave her another carrot as a reward :)
Got her home and settled, she stuck her head right in that bowl of pellets Hilary fixed her and never moved a muscle except her jaw! Meantime took Randy to get something to eat too... then back at home, pellets are almost gone so grabbed her a flake of bermuda to snack on overnight and the camera to take some pictures!
She's in awful shape...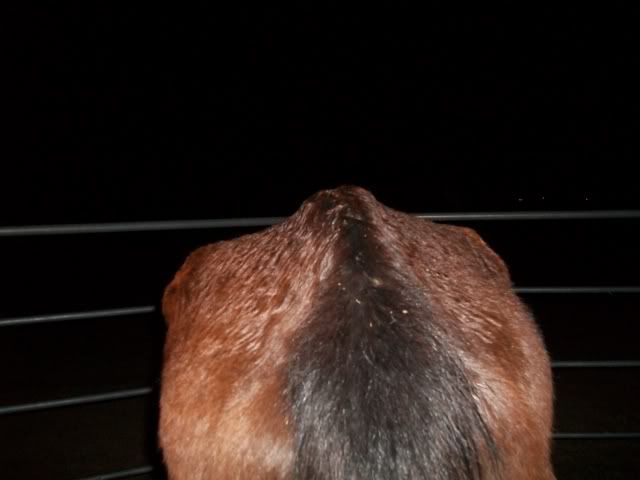 But such a pretty face!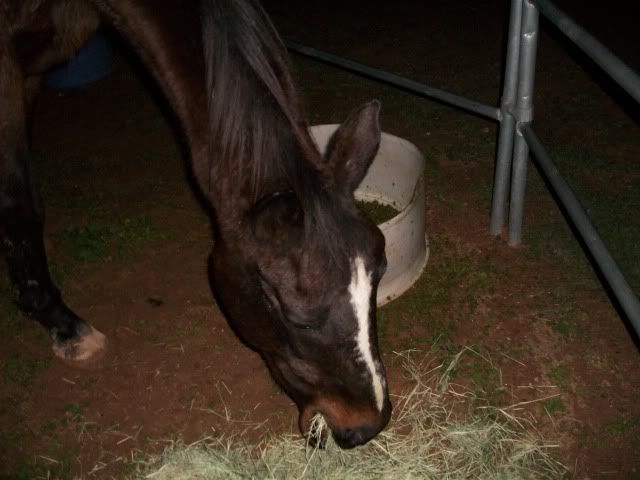 Found a small owie on her chest too: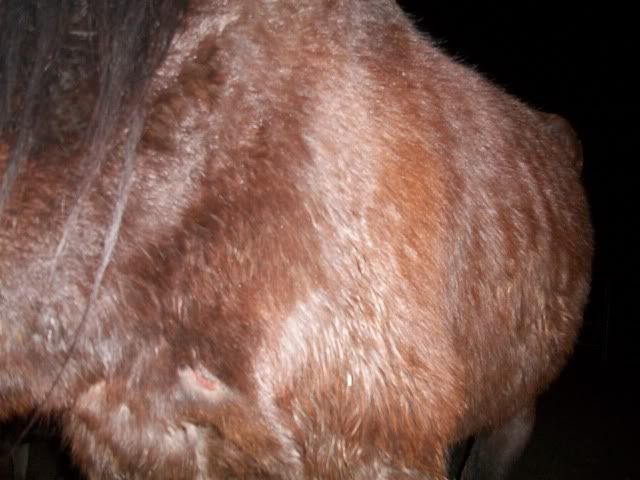 Then inside to start e-mailing and informing and asking... finally got to bed at almost midnight! Which is quite late for THIS old gal!

This morning, more pictures in the daylight.

She is NOT in good shape :(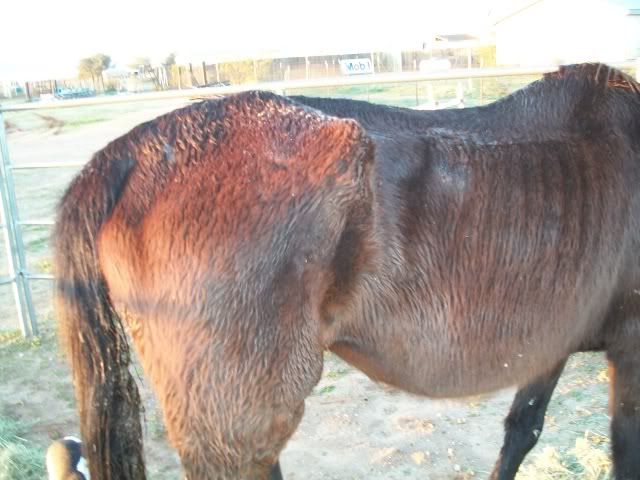 See how deep the divet is? This should be a ROUNDED rump!


And this is her hip bone protruding...


Surprisingly her hooves are not too bad.


NOT surprisingly, she sure likes her food!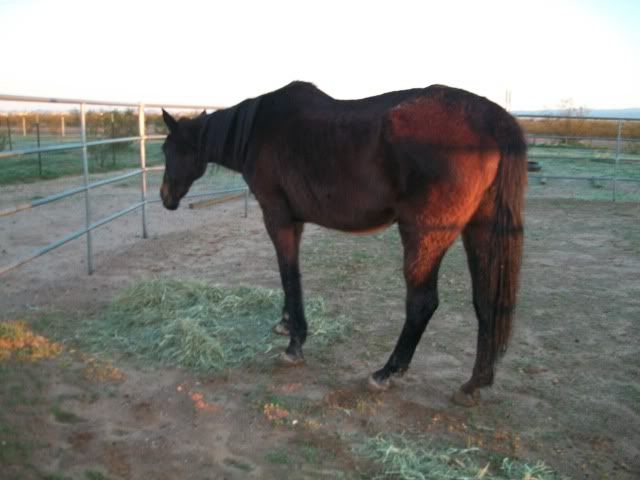 Such a sweet face!


Discovered she is oozing yucky yellow goo from her vulva... guessing an infection of some kind. A couple of good people went over to brave my dogs and get her cleaned up earlier than I could do it so that she will be dry before it gets dark and cold.


The underside of her tail: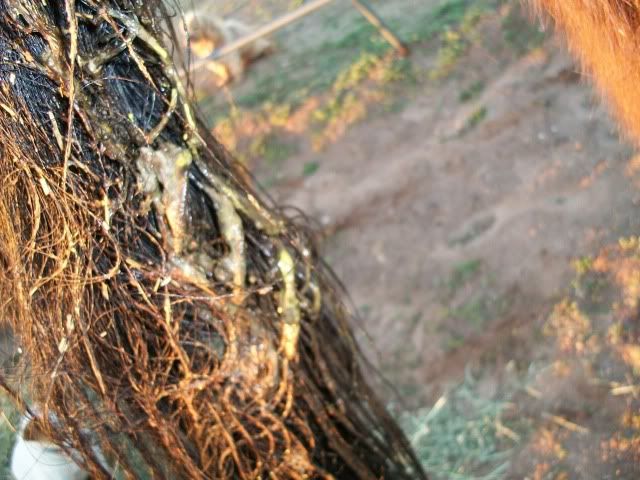 I'm sure she will be more comfortable once she is all clean!
The reactions are coming in to my e-mails and postings and lots of kudos going out to Jason for DOING SOMETHING - so many would have turned their backs, and some would have even added to her stress by torturing or teasing her...
As for us, I'm arguing with those who call us heroes - we are just ordinary people who love animals. Someone somewhere once loved this mare as I love my horses. I can only hope that if one of mine ever ended up in a situation like this, someone would take pity on them and lend a hand. How can we do any less? The real heroes are the people who are responding to this situation with offers of time, help, feed and money... although I have specified for any donors, they MUST agree that the money can be used to euthanize if it is determined that is the best course for this poor gal. Jason provided money to feed her for a week so we will defer a decision until after I return from Sonoita on Sunday, to give any possible angels out there a chance to step up if someone wants to take on the challenge of her rehabilitation, and amazingly there is another gal on the mini group who thinks she might actually KNOW this mare... so giving her time to look into it as well. And giving the mare time to relax and rest and eat to her heart's content, so that even if she does merit a quick end, at least she will have had a good week at the last!
She DOES have a tattoo, not all the numbers are legible but in the middle is 2-4-7...
Check back, you can bet there will be updates on THIS!