Melody bumped my weekend story so here it is...
This weekend past was the Old Pueblo Endurance Ride down near Sonoita, put on by AERC. Because this was a 3-day ride, I opted to do 3 12-mile "fun" rides instead of putting Katie through another 25... it was a good plan and I stuck with it even though Friday's 12-mile ride seemed awful short and I was really thinking hard about changing to a 25 on Saturday... however 3 days in a row, the 12s were GOOD for Katie (and for me) and if I'd gone 25 on Saturday, I'd have missed a GLORIOUSLY fun 12-mile ride...
But I'm getting ahead of myself. Friday, I made a quick trip down to the starting gate to see the 50-milers take off...
Then it was back to camp to get our 25-ers ready.
Lynn mounting up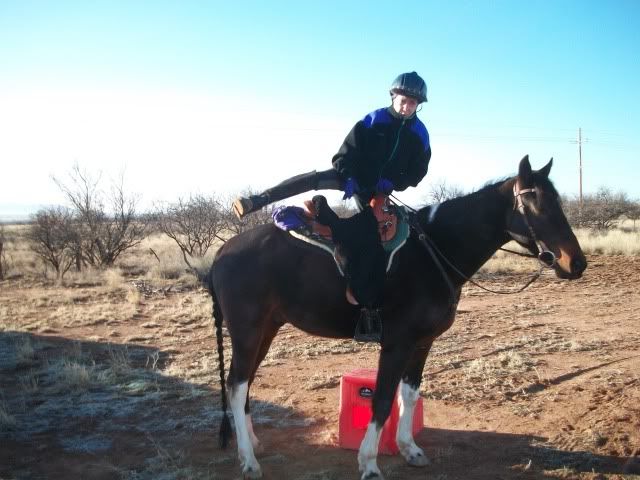 Ellen on Feathers, Lynn on Patch and Sabrina on Jersey, heading out to do 25 miles on Friday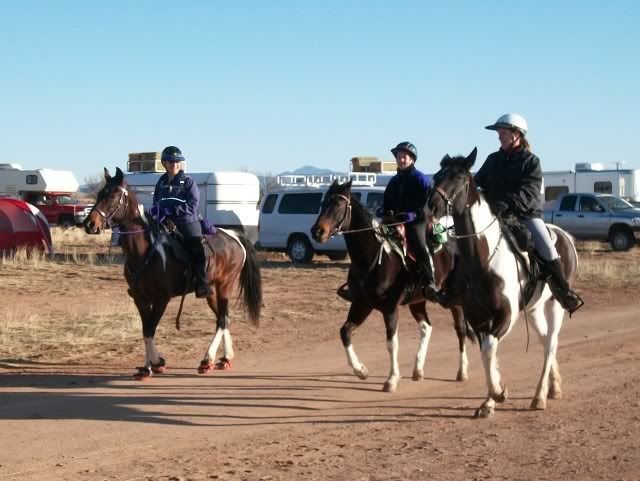 My friend Brenda has had to retire her endurance horse, a 27-year-old Arab mare named Sholah (pronounced SHOW-LAY) - yes Sholah did the 25 at Wickenburg last year and vetted in JUST FINE! The only horse available to her right now is her mom's QH Cinnamon, so 25s are out for now. That was another reason I opted for 3 12s. Friday's ride was nice but a little slow, to accommodate Cinnamon, and also because my Katie just does NOT like to be FIRST, and Brenda's mom, Shirley, was having trouble getting her new gaited mare, Gypsy, to move out while barn mate Cinnamon was behind... we had a lovely ride though! And when we got back and untacked, we were in time to watch Sabrina and Lynn return from the 25 - they both did GREAT!
Sabrina and Jersey vetting in after Friday's ride.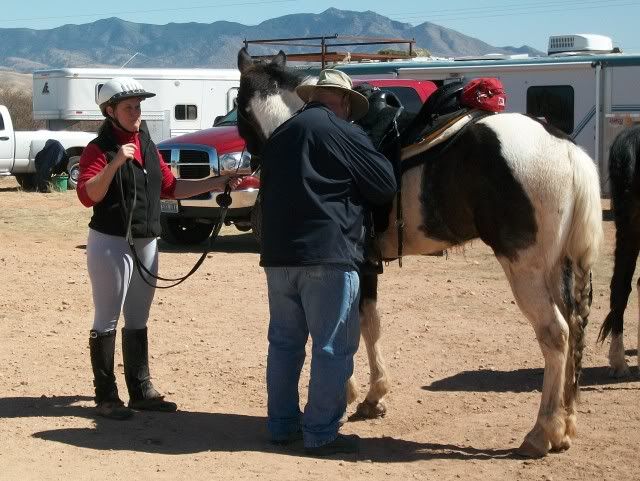 Now a quick trot for the vet check...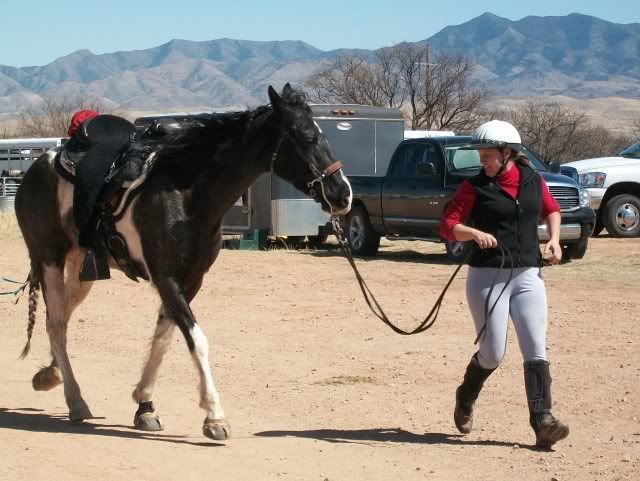 Sherman and Rocket got new jackets for the trip, matching but each in their own color...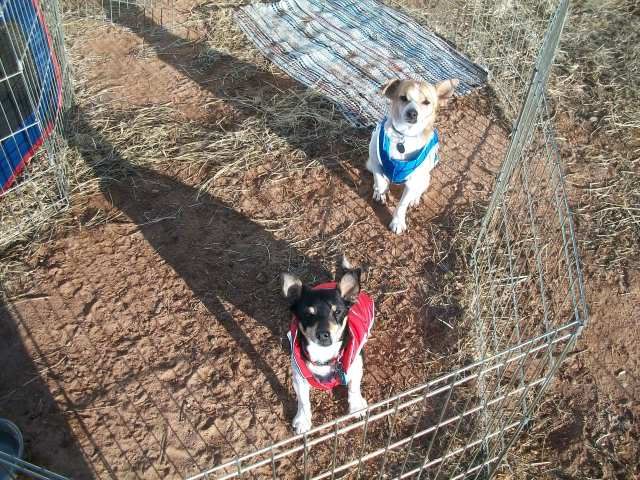 Maybe this will explain the need for the jackets in the previous picture ;)
On Saturday Brenda gave Cinnamon the day off and "crewed" for Sabrina and Shirley on the 25...
Sabrina and Savannah getting ready to go on Saturday - I SWEAR this horse poses for the camera!!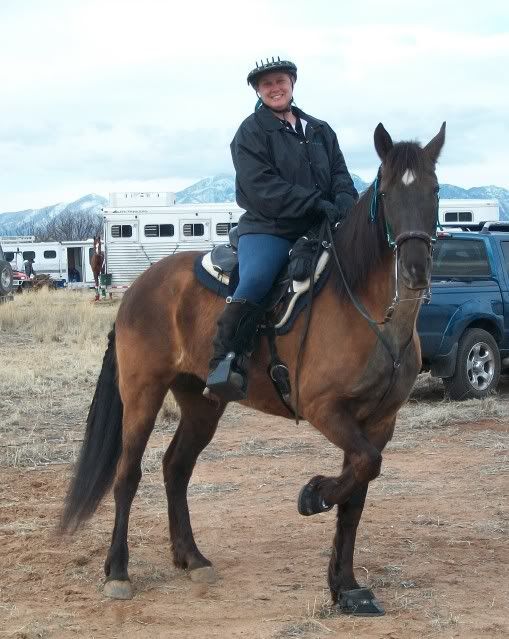 Lynn was giving Patch a rest so did the 12 with me and some other friends... most of whom wanted to go a little slower, but they said we didn't need to stick with them and we wanted to MOVE OUT. Well Patch, like Katie, doesn't like to be first, so we were having a bit of a problem with the MOVING OUT part... so we put Elvis (yes his name is really Elvis! although I must confess I just learned this, he usually goes by his middle name of Lynn - however with two Lynns it gets confusing!), on his horse John, out in front of us, and then OH BOY did we FLY!!!!! It was one of the best rides I have had in a LONG time!!!
Katie, with (Elvis) Lynn B on John and Lynn D on Patch
Another friend, Vikki, had tried her first 25-miler in Prescott - Man Against Horse - last year, but 12 seconds into the ride, got bucked off and landed on her head... so instead of a 25-mile endurance ride, she got a helicopter ride to Phoenix! Thankfully she was ok, just a concussion, and she has been riding ever since but Saturday was the first time she tried endurance again. She rode her new Haflinger pony, Canyon, who had also never done this before, AND THEY CAME IN FOURTH!!!! We were all SO PROUD of them!!!
Sunday turned out to be just me and Brenda on Cinnamon, Katie had no choice but to be first and she did much better than Friday, but it took us as long to do the 12 mile as it took Sabrina and Jersey to do the 25! Shirley and Lynn were both feeling under the weather so took a break, but Sabrina came in top ten YAHOO!!!
The weather was threatening so we got rolling before the rain started in camp, but we got hit by several showers on the way home. And I arrived home to find I was lucky to get in the gate, and stop right there... not getting stuck in my own yard AGAIN! Apparently it rained ALL DAY here...
Lucky Pup is the first weekend in April and I am going to try another 25 since it's a 1-day ride... If we stick close to Sabrina and don't take another wrong turn like we did at Wickenburg, we should be able to finish just fine!