...well, kinda!
Looking back I see I haven't even blogged about this so I guess a bit of history is in order first...
On the day of the Glendale parade, as we were leaving the house, I found a note on the gate. It was from "D", who a few years ago had bought Oreo, a mini colt born here, for his daughter "S". Basically the note asked if I would take Oreo back, since S had gone off to college and was going into the Air Force and wouldn't be back... and D was tired of taking care of the horses. Besides Oreo there were 2 riding horses as well, which I could also have if I wanted... little sister was not as interested as S and even if she was, these particular horses were too much for her...
Long story short after the parade we went over to D's house and loaded up the 3 horses and brought them home. I don't generally take big horses into the rescue because we "specialize" in miniature horses, donkeys and mules and small ponies. We have set aside our height limit requirement for standard donkeys simply becuase I love the donkeys so much... but with the economy the way it is, we have gotten to the point where we can only take owner turn-ins. We can no longer "pay ransom", be it through traveling to auction or "buying cheap" when circumstances arise. I have a commitment to my own animals and the sanctuary critters, and our policy is that anything that has been here can always come back, so I have to be careful...
Anyway. The next day we were able to place the gelding with a friend who was looking anyway, and a call to the original breeder where we bought Oreo's mom and sister generated a trip over there for Oreo as a potential forever home. That was the same day Patches went out on a trial basis so we were back to the original number right quick even though one of the critters is now twice as big...
So. Rosie is a 6-year-old sorrel pinto mare, with minimal white. She has four socks, none of which go over the knee, and a pretty cool-looking blaze...
and one white spot on her flank the size of a silver dollar: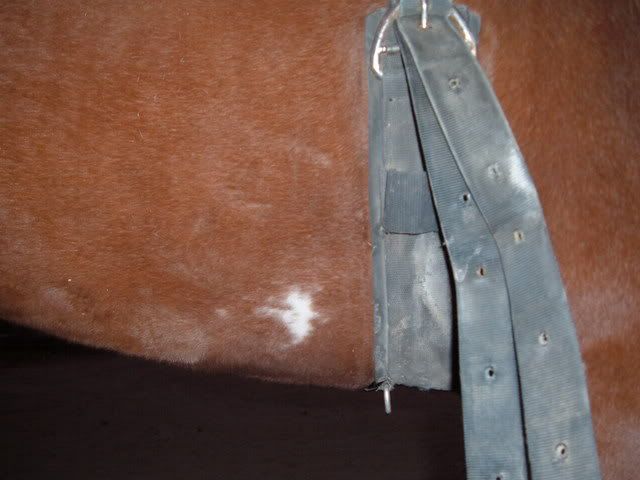 D told us that S had been on her a couple of times and she was "barely greenbroke"... and while he was feeding enough, he probably should have been separating them to eat, because the gelding obviously took more than his fair share and Rosie needs a bit of groceries. She now eats alone and gets her full share and is already looking better in just 10 days. Lindsey decided to see exactly how green she was today.
First discovery was, do NOT tie Rosie to a hitching post and walk away. We will need to experiment to see if things will change if someone is standing there or if she is not the only horse, but when Lindsey walked away to get the saddle, she pitched a fit. Lindsey then unclipped her and I held her and she stood just fine for saddling... and mounting... however she knows basically NOTHING.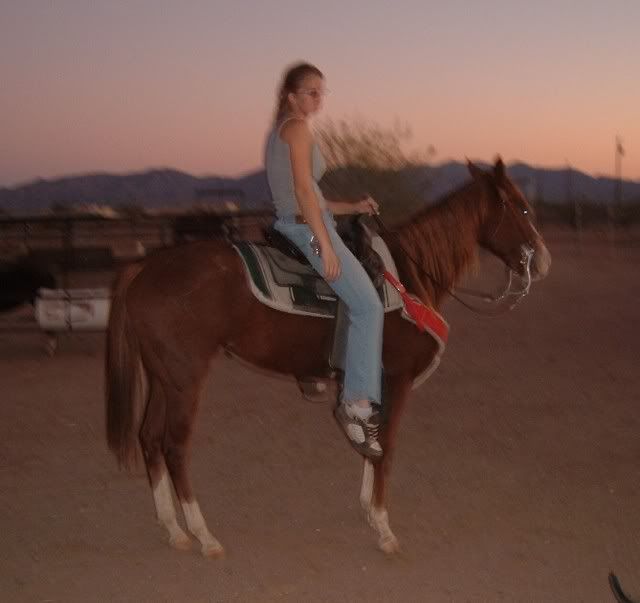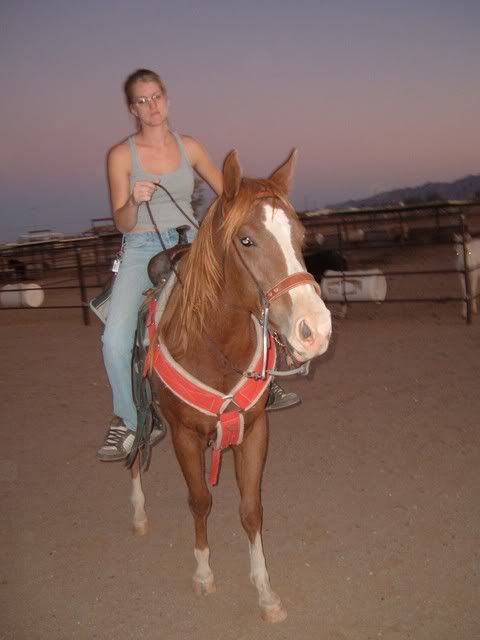 So the good news is, no buck or any other kind of blow-up under saddle. The "bad" news is she doesn't understand any cues... but really that's not so bad because that can be taught.
The hardest thing will be Lindsey (and maybe Hilary) finding time to do the teaching. I can help a little but I am not a trainer as far as riding, I'm just learning myself so that I can teach Luna.